A Simple Guide to Selecting Wood Table Tops for a Perfect Decor
A Simple Guide to Selecting Wood Table Tops for a Perfect Decor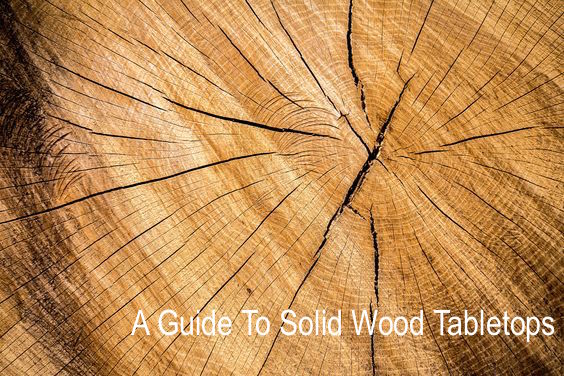 Restaurant tables face the most amount of abuse. From ketchup stains, to spilled beverages and occasions where a child might feel like scratching the surface of the table with a fork.

Whether you are a restaurateur starting a new venture or simply looking to add a modern twist to the overall look of your restaurant, selecting the right type of table top can greatly add to the overall appeal to ensure that your investment gets paid on in the long run.

Table tops showing the sign of warp or cracks or even worse screws sticking out – are all things that can ruin a restaurant's reputation. Therefore, when it comes to setting up a restaurant that spells luxury, comfort, and most importantly a promising experience, these are all the many things that you clearly want to avoid.

Wood comes highly recommended as our preferred choice of material for table tops. Delivering long-term value, Wood table tops are very aesthetically pleasing and performs well in interior as well as outdoor settings. Additionally, wood brings an extensive range of choices, making it easy for you to find a type that can best matches your vision for the restaurant. Think modern or contemporary.

Choosing the Right Wood for Your Table Top

For your wood table tops, selecting the right type of wood plays a very important role. Not only does it help ensure that your table tops matches the overall look of the restaurant but also that your purchase lasts for a long time.

When selecting the type of wood for your table tops, a few things to consider - hardness, grain pattern (influences the look), resistance to moisture (durability), availability (influences the price), stainability (flexibility to get the right finish) and last but not least sustainable harvesting (if you are concerned about preserving the nature like we are). The following is our guide to some of the most popular wood types for restaurant table tops:

Ash
Ash is a tough form of hardwood and a pocket-friendly option when looking for an expensive-looking wood for table tops. It's pretty easy to work with and takes stain quite nicely, but not very easily available. Sporting a light brown shade with a straight grain, table tops using ash give off a very clean and young look to the overall atmosphere and remain very popular amongst coffee-shops or informal dining settings.

Mahogany
Synonymous with luxury, Mahogany represents a contemporary appeal paired with a very decent style. Commonly used at fining dining restaurants or country clubs, Mahogany wood creates a sense of an exclusive affair without compromising on the functionality and durability. When used for table tops in restaurants, Mahogany resists signs of wear and tear, has strong resistance to corrosion and is an excellent insect repellent (bonus!). The only drawback is that mahogany isn't being grown in sustainable forests.

Beech
Beech tends to have a very unique pore pattern and is a fine-grained type of wood with orange-ish hues. Unlike several other species of wood, beech is completely odor-free, making it a good choice for restaurants. It is also a very durable material, withstands signs of wear and is a fine representation of a modern mid-century style.

Oak
Style, convenience, and durability – oak is a popular choice when looking for a blend between modern and contemporary. With open grain markings and two distinctive shades: the red oak and the white oak – there is a plenty to choose from; to best match your style. White oak has a more attractive figure than red oak and also resistant to moisture. It is sustainably harvested throughout USA and very affordable.

Maple
Maple wood represents rich tones, crisp and clean lines and an appearance that works well with both modern and contemporary styles. Furthermore, its ability to be stained beautifully and maintain a smooth appearance means that you can easily manipulate this material and develop a masterpiece to suit your design needs. It is more stable and tends to be less expensive than other woods.

Walnut
Representing brilliance, luxury and elegance – walnut is a highly desirable wood and makes an excellent investment for use in restaurants. This type of wood withstands chipping, can be stained and can help you accomplish a variety of looks to match the overall ambiance of your space. Unfortunately, walnut is somewhat expensive, as sourcing walnut is getting difficult.

Teak
Bring a contemporary style to your restaurant space by choosing Teak wood. An ideal choice as table tops in an outdoor setting, Teak wood has a high oil content that gives a naturally polished look and promises the highest levels of durability even under high temperatures. It is difficult to find sustainably harvested Teak.
Not to overwhelm, if you are not already, there is one more thing to consider, that is, the style of the board (how the wood board is constructed) – butcher block vs plank. Sparing the details (leaving it for another day), butcher block table tops are more resistant to moisture and heat than plank style tops, making them more durable. However, butcher block tops are harder to stain evenly, which allows it to give a more contemporary look. Plank tops, on the other hand, are easier to stain evenly and shows off the grain patterns more prominently, making it more attractive and traditional looking.
Taking all these factors into consideration, when looking to invest in table tops can greatly contribute towards the overall success of your project and put you one step ahead of your competitors